My sister Marj and I started a Poshmark account, selling all our cute clothes, shoes, and accessories that we rarely use and/or don't fit [anymore].  We would usually donate them, but I realized what a waste it was for my beautiful $300 BCBG dress to just be donated!  Not that I don't like being charitable.  There are just so many fashionable ladies out there who would love and rock that dress and a bunch of other stuff laying around in our closets.  Like seriously, I've only worn these patent yellow Kate Spade shoes once: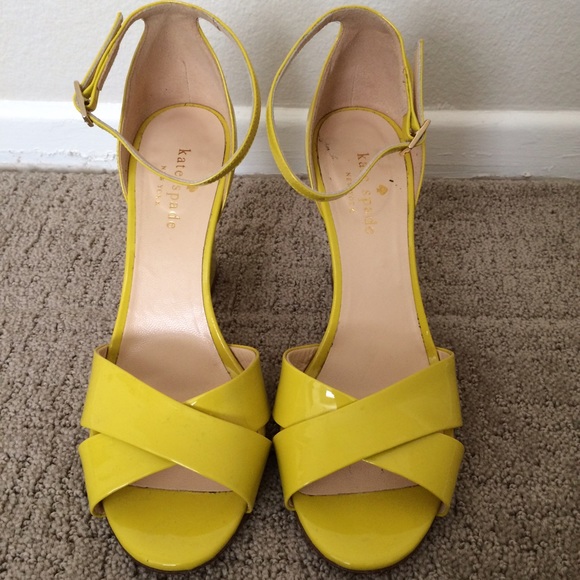 It was a total impulse buy because they were on sale, but a little too big on me.
And these totally Chanel sunglasses have been sitting in my closet longer than they've ever been on my head.  I used to name my sunglasses.  I named a pair "swagger".  This pair is rightly named "showstoppers":
And surely, there's a cute chick out there who could sport this Marc by Marc Jacobs watch and think "I got a pretty good deal on this"!  Amiright?!?
Just for reading this blog post, you can get whopping 20% off these items if they are still available! Simply leave a comment on the listing mentioning you saw it on the blog and put in an offer at the discounted price.  Discount will only apply for the Kate Spade shoes, Chanel sunglasses, and Marc Jacobs watch and is only valid 3 weeks from today's post date.  I may do more special discounts on the blog if this works
Most of our listings are from Zara, BCBG, Topshop, and Free People.  All brands we wear.  We've already sold eight items (3 in a bundle) in five days.  All items are cutely packaged with a thank you note written by Marj in modern calligraphy (she learned from my best friend April and is actively practicing!)  Please check out our closet and follow us if you are a fellow Posher!  You can also sign up and get a $5 credit using this code: BRXBS.  Happy poshing!