Finding clothes that fit is hard enough when you're short.  And even more difficult when you're pregnant!  I don't consider myself petite.  My measurements are that of a "normal" woman – 34″ bust, 26″ waist, 34″ hips – except I happen to be 4'10".  Here's a glimpse of how I've been making it work, as Tim Gunn would say:
By week 5 of pregnancy, my pants were a bit tight!  By week 7, I couldn't zip up my pants and decided to buy a Bellaband:
Ingrid & Isabel Women's Maternity Everyday Bellaband
It did the job, but it felt constricting at times.  Also, I don't know if it's because I'm short and the zipper sits low, but I was forced to wear longer tops to hide the band.  A lot of my tops are fitted and falls around my hips.  Lucky for me that my sister lives with us because she likes her tops loose and long.  Since Justin and I weren't ready to tell anyone about our pregnancy, I would sneak into her room after she left for work and "borrow" her clothes.  I also ended up buying a couple long, flowy tops from Free People: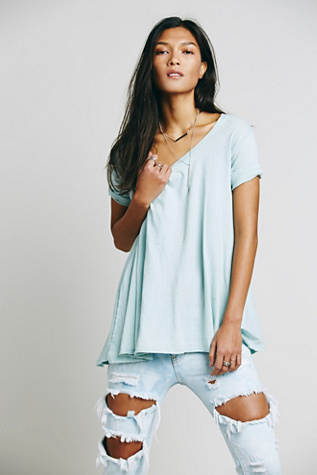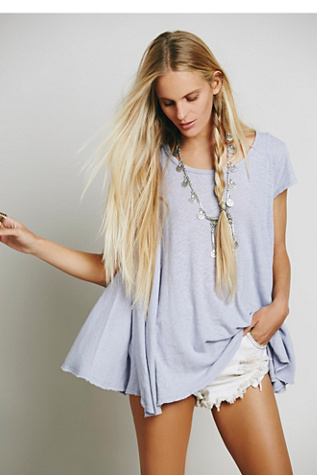 Free People We The Free Sylvie Tee
I'm refusing to purchase any maternity tops unless/until I absolutely have to.  I do find myself moving some tops to the "does not fit" pile, but I'm still making it work with the tops my sister and I have!
By week 15, I couldn't stand wearing the Bellyband EVERY DAY and succumbed to buying maternity pants.  I purchased a pair of work pants from ASOS, but they felt too tight.  I headed to Motherhood and purchased a pair of work pants, which are super comfortable:
Motherhood Petite Secret Fit Belly® Bi-stretch Suiting Straight Leg Maternity Pants
The only thing is that they're long and I have to wear heels with them.  I haven't been in the mood to wear heels lately so I haven't worn the pants in a while!
I bought Indigo Blue dark skinny jeans (I'm wearing them right now) in petite XS.  Because of my body type, they slouched a little.  I'm used to wearing a belt with stretch jeans but I can't now!  I have to occasionally lift the jeans from the band and then where the denim material starts.  I didn't see the exact jeans I have online, but here's a similar one:
Motherhood Fade To Blue Petite Secret Fit Belly® Slim Fit Skinny Leg Maternity Jeans
I've been wanting a pair of destructed boyfriend jeans.  Though it didn't come in petite, I bought these Jessica Simpson ones, also from Motherhood:
Jessica Simpson Secret Fit Belly® 5 Pocket Skinny Leg Maternity Jeans
And there you have the new tops and pants I've purchased for my growing belly!