You may recall that the fireplace room was missing a ceiling light fixture.  I wanted a chandelier that had a whimsical feel since the room would eventually be used as a playroom.  I loved the Rissa Crystal Beaded Chandelier from Pottery Barn Kids:
Sadly, it's no longer available.  The Dahlia Chandelier has the same feel:
But I wanted crystal beads.  I also LOVE the Dauphine Crystal Large Pendant from RH Baby And Child: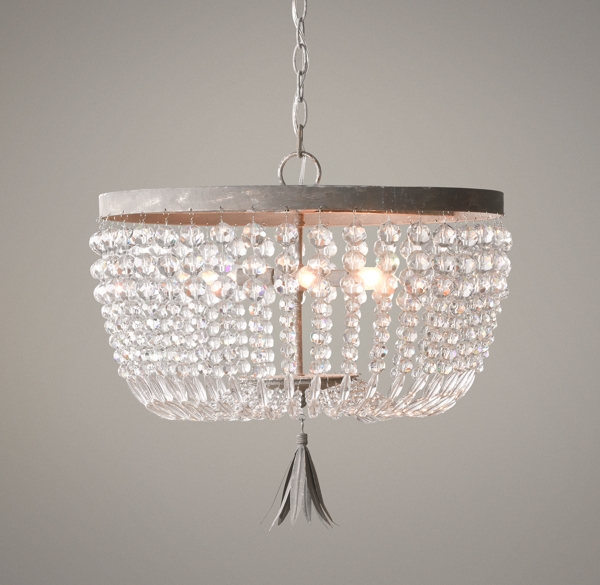 But it's way over our price range!  Then, I encountered a super cute nursery from Decorchick with an affordable chandelier:
I knew it was THE ONE!  We purchased the Hampton Bay Estelle 6-Light Champagne Hanging Chandelier from Home Depot.
It was a fairly easy install, except there were some small missing pieces like wire nuts and washers.  Justin went back to Home Depot where they were able to let them have those items for free.  There were also missing or broken crystal beads.  Overall, I'd rate the chandelier a 3/5 because of the missing pieces, though I love the look and price was decent.
And now, let there be light!
What do you think of our chandelier?  Way better than the before?
We're delighted to hang out there more often now that there's a light in the room!
Side note: Does anyone start singing Sia's "Chandelier" any time she/he talks about or sees an actual chandelier?  "I'm gonna swing from the chandelieeer, from CHANDELIEEEER!!!"