You might recall my dining set and my feelings toward it (i.e. not very good) during the home tour.  Since then, we've purchased a new dining table and chairs from Restoration Hardware!  Yes, I convinced the husband we indeed should make the purchase because of the major deal we were getting for them.
I was very particular on the type of dining table I wanted.  It had to be a farmhouse-style dining table in a light wood finish that sat at least six, was extendable, and had four simple legs.  I initially had my eye on the 1900s Boulangerie Rectangular Extension Dining Table in salvaged natural: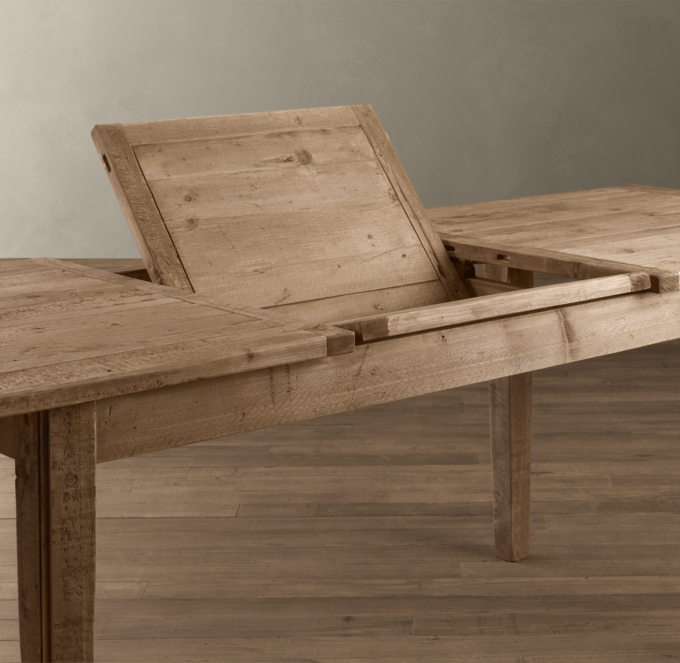 However, I saw that the Drifted Oak Parsons Rectangular Extension Dining Table in weathered oak was more affordable and best fit the size of our dining room.  It has two 16-inch extension leafs with an attached storage space.  I also thought it would be easier to clean with less nooks and crannies than the boulangerie table appeared to have.
Previously, I was pretty much set on getting four Madeleine Side Chairs in distressed white oak and two fabric arm chairs for the ends of the table.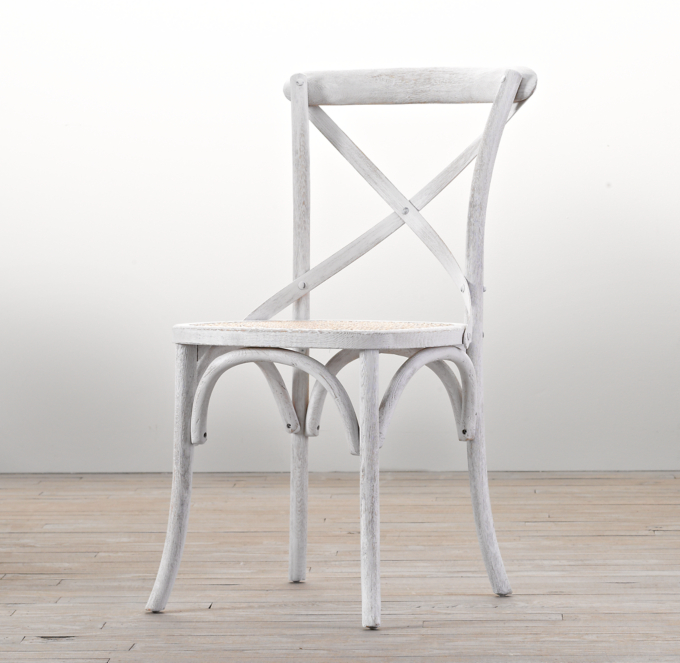 I coveted the 1940s French Barrelback Upholstered Side Chairs after feeling sooo comfortable upon sitting on one when I dined at The Smoking Goat in North Park.  I had asked the waiter where the chairs were from and the $199 was over my price range, however, I kept an eye on this chair as well.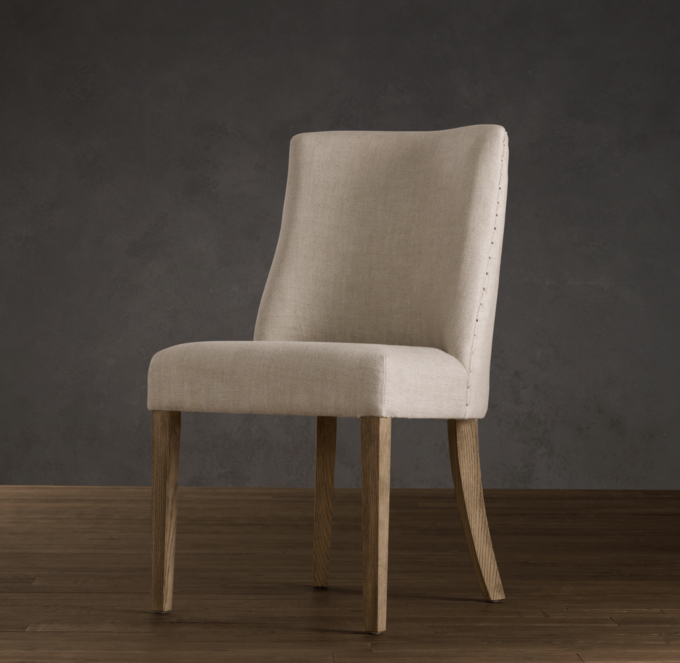 I ended up getting the Drifted Oak Parsons Rectangular Extension Dining Table in 60x36x30-inch weathered oak drifted, which extends to 92 inches in length with two 16-inch extension leafs, along with six 1940s French Barrelback Side Chairs.
The best part was that I saved 25% on the dining table and over 50% on the chairs!  No bargain #craigslistfind here.  Nor are there any Restoration Hardware outlets nearby.  I also didn't get the floor samples.  I purchased them new straight from Restoration Hardware!
I've been loosely keeping track of Restoration Hardware sales for a few years.  FYI, they always have sales so don't be fooled by getting something full-priced.  Most, if not all, items from the store will be on sale at one point or another.  I've noticed since the beginning of the year that there's been nonstop consecutive sales.
Here are a few suggestions for trying to get the best deals:
Sign up for email promotions to track sale trends.
Be patient, especially with items you don't immediately need.
Request for gift cards on your wish lists.
Try to purchase multiple items at a time to take advantage of the unlimited furniture delivery fee.
When you believe you've found a great deal you can afford, make the purchase!
The dining table was originally $895 and I purchased it for $665.  Currently, only the black oak drifted finish in the same size is the same deal.  I haven't seen the weathered oak drifted at over 25% off since my purchase so I'm thinking it's probably the best deal one could get.
I saw the barrelback chairs at a whopping $100 off!  That made them the same price as the Madeleine's!  The best deal I've seen for the Madeleine's was $79, however it was only $99 at the time.  I decided to get six of the barrelbacks because of the awesome savings and to make the other chairs comparable in comfort meant also having to purchase separate cushions.
We saved even more with $90 worth of gift cards given to us by my sister and parents for Christmas, making it a total of over 40% in savings!  What would have been $2438.64 with $169 unlimited delivery and 8% tax included came out to $1452.24!
Some may say that's still a hefty price, however, I got EXACTLY what I wanted.  No knock-offs, used, or dining table and chairs I settled for because it was cheaper.  Not that there's anything wrong with that as I've purchased plenty of the like!  I'm 100% satisfied with our purchase because of the over 40% off deal we got for them.
Here's the obligatory "before and after" shot:
Hands down a better look, especially with $$$ we were able to save.  Wouldn't you agree?  It'll be a while (if ever) to convince my husband to change the chandelier.  I also want to add a rug and curtains, but one step at a time!  Do you have any helpful tips to add for getting great deals from dream sources?  Happy deal hunting to you and good luck!